De organisatie van European Cleaning & Hygiene Awards is verheugd, dat Lucart Professional – producent van papier- en tissueproducten – Silver Sponsor is van de 2018-editie. De enige pan-European awards voor de schoonmaaksector vormen een erkenning van de hoge standaards van excellent professioneel schoonmaak.
Naast Lucart Professional zijn Greenspeed, Ceris Burns International, Igefa, Truvox International en Werner & Mertz. Other supporters van de European Cleaning & Hygiene Awards 2018, alsmede CleanMachines24.com, Kenter, RAI Amsterdam en Vectair Systems.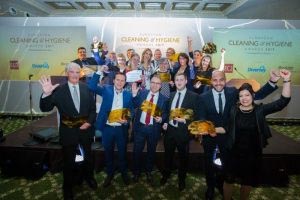 Engels persbericht
One of the top 10 producers of paper and tissue products in Europe, Lucart Professional is a natural fit for the awards. Francesco Pasquini, Sales & Marketing Director of Lucart AFH division said, "Our vision is to ensure reliability, performance and sustainability in everything we produce. These are key themes for our industry as a whole. We are therefore thrilled to sponsor the awards to recognise the success and reward excellence in these areas, as well as celebrate the outstanding achievements that are taking place across the cleaning industry in Europe."
The award categories this year are sponsored by Ceris Burns International, Greenspeed, Igefa GmbH, Lucart Professional, Truvox International, and Werner & Mertz. Other supporters include CleanMachines24.com, Kenter GmbH, Rai Amsterdam, and Vectair Systems.
Now in their third year, the awards – founded by European Cleaning Journal and organised by Environment Media Group – are open to service providers, manufacturers and distributors in the cleaning and hygiene sector throughout Europe. The awards ceremony this year will take place on 15 November in Berlin.
Entries are open until 20th of July  via the Awards website: http://www.echawards.com/.