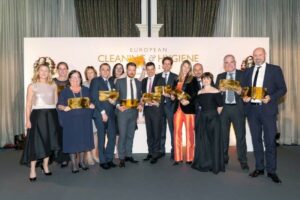 Europese leiders in schoonmaak en hygiëne waren op 15 november bijeen om de beste in de industrie te vieren tijdens de jaarlijkse European Cleaning & Hygiene Awards. Tijdens het gala diner in Hotel Palace in Berlin werden onder andere CSU en Essity tot winnaar verkozen. Lees hierna het Engelstalige nieuwsbericht van de organisatie en wie in welke categorie won.
The awards, which recognise standards of excellence in the professional cleaning industry, are the only pan-European awards for the sector. With over 100 entries this year, 36 leading service providers, manufacturers and distributors made the shortlist across ten categories.
The winners were:
Best use of smart technological solutions: Principle Cleaning at Blue Fin
Commitment to training (Sponsored by Greenspeed): Derrycourt
Client/contractor partnerships (Sponsored by Igefa GmbH): CSU and CIRCL
Distributors: excellence in added value initiatives (Sponsored by Lucart Professional): Kenter
Sustainability: best practice (Sponsored by Werner and Mertz): Essity
Workforce: commitment to diversity: Ilunion Facility Services
Initiative in raising the profile of the cleaning sector (Sponsored by Ceris Burns International): British Institute of Cleaning Science
Technological innovation of the year: Essity
Leader of the year (Sponsored by Truvox International): Tony Berisha
Rising star: Ben Swinbourne
Compère for the evening, and member of the judging panel, Michelle Marshall, Editor of the European Cleaning Journal, said: "There is so much tremendous work being done in the professional cleaning sector across Europe. The European Cleaning and Hygiene Awards exist to highlight and celebrate the service providers, manufacturers and distributors going above and beyond in the industry.
"We had some extremely strong entries this year, which is testament to the hard work and dedication of the sector. Our 2018 winners represent some of the most forward-thinking, innovative businesses, who are really making a difference in our industry. Congratulations to our 2018 winners."
Joining Michelle on the judging panel were Lynn Webster, Director of Lynn Webster Consultants (UK), Juan Diez de los Rios de San Juan, President of ASPEL (Spanish Contract Cleaning Association), and Frank Veneman, Director of Association for Cleaning Research (VSR) (The Netherlands).
The venue for the 2019 European Cleaning and Hygiene Awards was also announced at the dinner. Next year's event will take place in London.
Along with the opportunity to network with the best in the European Cleaning and Hygiene sector, attendees were entertained by The Three Waiters.
Organisation
The awards, now in their third year, were launched by the European Cleaning Journal and are organised by EMG. The event's sponsors and supporters included Lucart Professional, 3M, CleanMachines24.com, Kenter GmbH, rai Amsterdam, Vectair Systems, and Vermop. The media partners were Tomorrow's Cleaning in the UK, GSA in Italy, Services of France and Reinigungs Markt in Germany.